Human Bar
You must be 21 to be at Bark & Brew. There is a one beverage minimum for each person at Bark & Brew. Our beer, wine and specialty drink selection changes seasonally, so be sure to check back on occasion to see what's new!
** One Beverage Minimum Per Customer Please ** $10 minimum charge on all debit / credit card transactions. You may tip your Dog Butlers directly, thank you! No Liquid Carry Ins or Dog Treats.
---
June Specialty Drink Menu
PEACH LEMONADE: $8.00
Ole Smoky Peach Whiskey and Lemonade
STRAWBERRY LEMONADE: $8.50
Strawberry Vodka, Lemonade and fresh Strawberries
BLUEBERRY LEMONADE: $8.50
Muddled Fresh Blueberries, Blueberry Vodka and Lemonade
PEACH MARGARITA: $9.00
Ole Smoky Peach Whiskey, Triple Sec and house Sweet/Sour.
HARD ARNOLD PALMER: $8.50
Muddled Orange slice, Deep Eddy Sweet Tea Vodka and Lemonade
---
Apricot Poodle
Deep Eddy Cranberry Vodka, sparkling white wine, orange juice $8.00
Black Lab
Goslings Bermuda Black Rum, Goslings Ginger Beer, fresh squeezed lime juice $7.50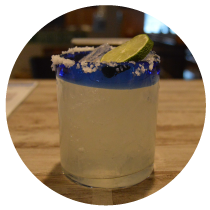 Chihuahua (Margarita)
Jose Cuervo Silver Tequila, triple sec, house sweet/sour mix $8.50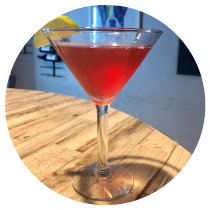 Frenchie (Cosmopolitan)
Absolute Citron, Cointreau, sweet/sour & cranberry juice $9.00
Golden Retriever (Long Island)
Tequila, Rum, triple sec, vodka, gin, house sweet/sour mix $10.00
Great Dane
Deep Eddy Ruby Red Vodka, Ginger Ale $7.50
Irish Setter (Bloody Mary)
Absolute vodka, house Bloody Mary mix, spices $9.00
Legal Beagle
Sprite and cherry juice $3.25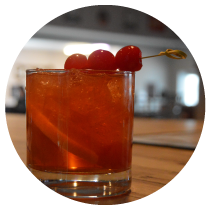 Pit Bull (Old Fashioned)
Whiskey or brandy, bitters, old fashioned mix, house simple syrup, topped with soda $8.50
Pug Dance
Seagrams Gin, house sweet/sour mix, simple syrup, club soda $7.50
The Corgi
Deep Eddy Lemon Vodka, triple sec, house sweet/sour mix, cranberry juice $8.50
The Doodle (Lemon Drop Martini)
Deep Eddy lemon vodka, triple sec, house sweet/sour, simple syrup, rimmed with lemon sugar $9.00
The Mutt
Deep Eddy Sweet Tea Vodka, white wine, lemonade $8.00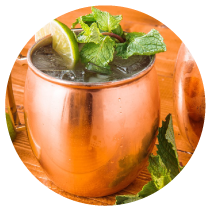 Ultimate Moscow Mule
Vodka, Ginger Beer, house S/S & lime $8.00
Weiner Dog
Deep Eddy Ruby Red Vodka & lemonade $7.50